Hello Readers, Hope you're well. Today I'm Prince Al-amin going to share, How to show popular post Plugin filter by Day, week, Month in WordPress. It offers tons of options like time range, excerpt, featured images, views count, and more.

Let's know It's features
Multi-widget capable – You can have several widgets of WordPress Popular Posts on your blog, each with its own settings!
Time Range – List those posts of your blog that have been the most popular ones within a specific time range (eg. last 24 hours, last 7 days, last 30 days, etc)!
Custom Post-type support – Wanna show other stuff than just posts and pages?
Thumbnails! – Display a thumbnail of your posts! (see the FAQ section for technical requirements.)
Statistics dashboard – See how your popular posts are doing directly from your admin area.
Sorting options – Order your popular list by comments, views (default) or average views per day!
Use your own layout! – WPP is flexible enough to let you customize the look and feel of your popular posts! (see customizing WPP's HTML markup and How to style WordPress Popular Posts for more.)
Disqus support – Sort your popular posts by Disqus comments count!
Polylang & WPML 3.2+ support!
WordPress Multisite support – Each site on the network can have its own popular posts!
OTHER FEATURES
Shortcode support – Use the [wpp] shortcode to showcase your most popular posts on pages, too! For usage and instructions, please refer to the installation section.
Template tags – Don't feel like using widgets? No problem! You can still embed your most popular entries on your theme using the wpp_get_mostpopular() template tag. Additionally, the wpp_get_views() template tag allows you to retrieve the views count for a particular post. For usage and instructions, please refer to the installation section.
Localization – Translate WPP to your own language (See the FAQ section for more info).
WP-PostRatings support – Show your visitors how your readers are rating your posts!
First you have to download Popular Post plugin .
Download link posted at the bottom of this post.
Upon activation, you need to head over to Appearance » Widgets page to drag and drop the WordPress Popular Posts widget to any sidebar.


You can name this widget 'Today' and under the time range field select last 24 hours. After that you can review other widget options and set them to your liking. Don't forget to click on the save button to store your widget settings.
Next, you need to add another popular posts widget and name it 'Week'. In the widget settings, you need to select '7 days' under time range field and then click on the save button.< br/>
Repeat the process to add monthly and all time popular posts widgets as well.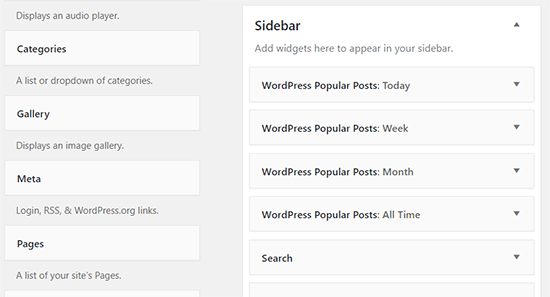 [img id=2271]


That's all. Thanks everyone for keep visiting duniartips.com
I'm will again come back with new article .